Englewood's Trusted Locksmith Company
Lock problems often take place unannounced. Are the locks at your home giving you a tough time? Are the keys to your office space not working properly? Have you lost your car key fob somewhere in Englewood? At Alpha Locksmith & Security, we can assist you with a great many services. We can help you with new lock installation, car key replacement, car lockout services, home lockout services, lock rekeying services and so on. All you have to do is make the call and our certified professionals will arrive at your location to help you with your locksmith requirements. Whether your lock & key requirement is residential, commercial or automotive, we have a designated locksmith for everything.
Feel free to get in touch with our sales representative and get a cost estimate for your required service.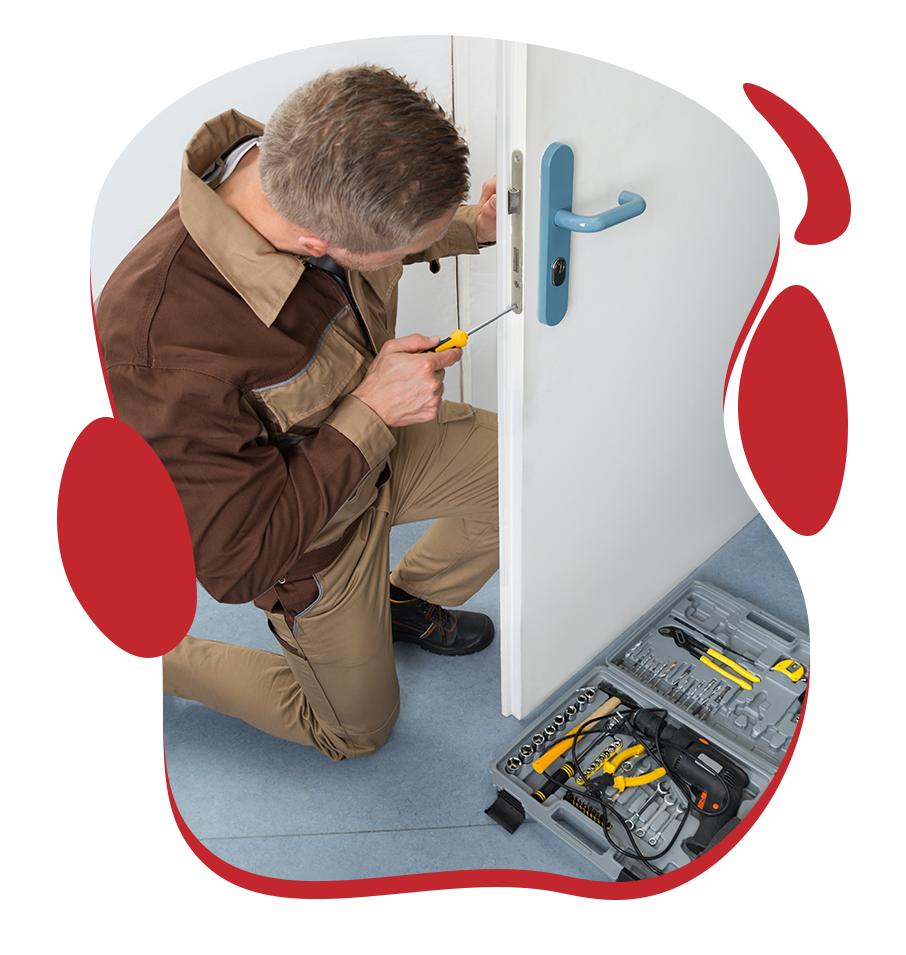 Residential Locksmith for
New Lock Installation

in Englewood NJ
Home locks can be troublesome if they are not maintained frequently. Are the locks at your home malfunctioning? Call our professional locksmith service to provide you with reliable lock installation at a fair price. We have a team of certified residential locksmith specialists who can provide you with a variety of lock & key services. Here are some of the ways how our locksmith can be of assistance.
Do you find any of our services of use? Feel free to call us and get a cost estimate.
A Wide Range of Locksmith Services
Lock Installation
& Repairs ​
Upgrade Workplace
Security with our Commercial Locksmith

in Englewood
If you want to make sure your commercial place in Englewood is safe & secure, then call our commercial locksmith. We have years of experience and professional expertise to install top quality locks at your workplace. Our team is fully equipped with the right tools and the best knowledge. Our professionals know that every business has their own specific commercial security requirements. Whether you own a small office or a large factory, our locksmith company can install a variety of solutions.
Some of the ways how our commercial locksmith can provide you with assistance include:
Keyless Entry Systems: Are you tired of carrying around keys for different lock types at your facility? Install keyless entry systems company wide to ensure a seamless key free entry system.
High Tech Security Systems: Want to ensure your commercial premises have top quality security? We can install alarm systems, buzzer systems, intercom systems, CCV installation and much more.
Master Key Plan: Can't afford to purchase new locks for your commercial premises? Get a locksmith for a master key plan system. We can rekey all your locks to work on the same key or different keys.
File Cabinet Lock System: Have the locks on your filing cabinets not working optimally or malfunctioning? Feel free to contact us and our locksmith in Englewood will change them.
Do you find any of our commercial locksmith services of interest? Call our professional locksmiths now.
Dealing with a
Car Lockout in Englewood?

Call our Automobile Locksmith
Are you experiencing a car lockout situation somewhere in Englewood? Whether you drive a Chevy, Lincoln, GMC, Jeep, Cadillac, Toyota, Honda, Nissan, or any other car model, our professional locksmith can unlock any car door easily. Whether you're dealing with a car lockout situation in the dead of night or the middle of daytime, our 24/7 locksmith operates around the clock to provide you with the services you need. We have a mobile locksmith team with fully equipped vans. How can our locksmiths help you?
Ignition Switch Repairs: If your car's ignition switch has suddenly stopped working or you've stuck a key bit inside the ignition and have a broken key, our automobile locksmith can provide repairs.
Car Key Fob Programming: Is your car key fob not responding? If your car key fob has suddenly stopped working then our automobile locksmith can quickly reprogram any car key fob with ease.
Car Key Replacement: Lost your car keys in Englewood? Although we cannot find them, we can always provide you with a quick replacement key.
Dealing with any car lock or key related problem? Call our automobile locksmith in Englewood for any of the services.
Get Ignition & Key Replacement Service with Automobile Locksmith
Are you experiencing troubles with your car's ignition lock? Searching for the right automobile locksmith to help you fix your vehicle's ignition system? In case you are, then call our car locksmith in Ridgefield NJ to provide you with quick assistance. Our team of professional automobile locksmiths can easily repair or replace any car's ignition without breaking a sweat. They have the tools and the necessary expertise to fix your vehicle's ignition problem. Not only that, but our skilled automobile locksmith in Ridgefield NJ can also provide you with car key replacement service. So whether you drive a Ford, Chevvy, Lincoln, GMC, Jeep, Mercedes, or any other vehicle type, if you've lost your car keys, we can replace them for you.
Our expert locksmiths can also help you with car key fob programming. Locked out of your car somewhere in Ridgefield NJ? Our automobile locksmith can arrive at your location and resolve your problem.

Security Systems Installed